We're Getting Mutants in the MCU - The Loop
Play Sound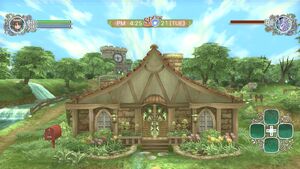 To obtain an upgrade for your home, you can speak with Lute on each Holiday to obtain the initial facilities needed for cooking/crafting. Lute rotates his inventory each week. Larger facilities are needed in order to use more ingredients, thus allowing the player to create better items, tools, weapons, etc. However, you will need to have obtained a substantial amount of lumber and gold via farming and using the axe. Once you have done this, speak with Kross in order to proceed with extensions.
Expanding on a Friday
Often you'll want to build an extension on a Friday so that you can then buy the associated equipment from Lute the next day. However, if your cash is so tight that you know you'll need your Friday payment from Rosetta in order to pay Kross, you'll have a problem because Kross is up on his roof on Friday afternoons and is inaccessible. However if you know on Thursday that you'll be cash-strapped, order a Rainy Week from Candy... this way Kross will be in his house from 5PM-6PM and you'll be able to use the cash you get from Rosetta at 5PM to pay Kross by 6PM.
Extensions
Extensions are needed in order to fit more than just the basic Kitchen, Forge, and Lab upgrades available from Lute. (Note: Each of the styles only changes the overall look of its respective facility and has no affect on the function.)
Extensions
Upgrade
Lumber Required
Gold Required
Styles Available
Bedroom
900
75000g
n/a
Laboratory
180
15000g
Apothecary, Alchemy, Magic
Forge
240
20000g
Cozy , Creepy, Cool
Kitchen
120
10000g
Bulging , Ba-bump, Pointy
Monster Barn 1
10
1000g
1 Room
Monster Barn 2
300
18000g
3 Rooms
Monster Barn 3
800
50000g
7 Rooms
Upgrades/Furniture
Upgrade Name
Requirements
Cost
Date(s) Available
Facilities
Handy Kitchen
None
800g
Year round
Great Kitchen
Kitchen Expansion, Handy Kitchen
2000g
Year round
Chef's Kitchen
Kitchen Expansion, Great Kitchen
8000g
Year round
Handy Forge
None
2000g
Year round
Great Forge
Forge Expansion, Handy Forge
8000g
Year round
Maestro Forge
Forge Expansion, Great Forge
28000g
Year round
Forge Storage
Forge Expansion
10000g
Year round
Handy Laboratory
None
1000g
Year round
Great Laboratory
Lab Expansion, Handy Laboratory
2500g
Year round
Research Laboratory
Lab Expansion, Great Laboratory
14000g
Year round
Lab Storage
Lab Expansion
10000g
Year round
Furniture
Relaxation Curtain
None
10000g
Year round
Smart Curtain
None
10000g
Year round
Elegant Curtain
None
10000g
Year round
Full Sized Bed
Bedroom Expansion
20000g
Spring 13
Large Table
None
10000g
Year round
Mini Fridge
None
5000g
Spring 7
Giant Fridge
Kitchen Expansion, Mini Fridge
10000g
Year Round
Large Storage Box
None
10000g
Year Round
Children's Bed
Being Married
20000g
Year Round
Cooking Tools
Handy Frying Pan
Handy Kitchen
400g
Spring 7
Great Frying Pan
Great Kitchen
1000g
Year Round
Legendary Frying Pan
Chef's Kitchen
2400g
Year Round
Handy Pot
Handy Kitchen
400g
Spring 7
Great Pot
Great Kitchen
1000g
Year Round
Super Pot
Chef's Kitchen
2400g
Year Round
Handy Steamer
Handy Kitchen
400g
Spring 7
Great Steamer
Great Kitchen
1000g
Year Round
Master Steamer
Chef's Kitchen
2400g
Year Round
Handy Blender
Handy Kitchen
400g
Spring 13
Great Blender
Great Kitchen
1000g
Year Round
Mystical Blender
Chef's Kitchen
2400g
Year Round
Handy Oven
Kitchen Expansion
400g
Year Round
Great Oven
Great Kitchen
1000g
Year Round
Royal Oven
Chef's Kitchen
2400g
Year Round
Makers
Seed Maker
None
5000g
Year round
Cheese Maker
None
1000g
Year round
Yogurt Maker
None
2000g
Year round
Yarn Maker
None
2000g
Year round
Paintings
Summer Ocean
Bedroom Expansion
5000g
Spring 7
House in the Forest
Summer Ocean Required
5000g
Spring 13
Small Lake
House in the Forest Required
5000g
Spring 19
Autumn Forest
Small Lake Required
5000g
Spring 1 of Year 2
Winter City
Autumn Forest Required
5000g
Summer 1 of Year 2
Gallery